Anime Review - One Punch Man
"100 push-ups, 100 sit-ups, 100 squats, and a 10km run EVERY SINGLE DAY!!!"
Hello everyone!
How are you all doing lately?
So, did you had a good new year's eve??
I hope so!
Well, I decided to talk to you about the most recent and super popular anime released in (the just finished) 2015:
ONE PUNCH MAN!!!
So, let's start this review!
Notes:
The manga series was released in 2009 by ONE as a web-comic.
So far, the manga has 10 volumes and is still running.
The manga style of this anime is Seinen.
An

anime

adaptation was announced in

March 10, 2015.
The series' first season was directed by Shingo Natsume at

Madhouse

and written by Tomohiro Suzuki.
The first season has 12 episodes + 7 OVA's and every episode has 24 minutes.
Images from the manga:
Plot:
This action-comedy anime tells a story about a man called Saitama who is ''a hero just for fun'' and lives in a world where monsters and heroes are an everyday thing. He is overpowered and manages to kill anyone in just a single punch, which has strangely made his life quite boring.
Soon a new cyborg named Genos appears and he's in
search for another robot who destroyed his village.
He later requests Saitama to become his master after seeing his strength while fighting.
Artwork:
This is a pretty spectacular visual anime.
Firstly, it has the most epic protagonist ever!
I'll explain in case you don't know him: if you draw a simple face on an egg, well, that's pretty much it.
I like it because usually all super heroes have long and sexy hair... right? This one doesn't!
He actually looks like a normal dude, without any special ability.
When it comes to the fight scenes, they have a lot of detail, cool music and a looooot of action.
Some of them finish quite quickly because of Saitama's power, but that's normal, he's super powerful.
All the other characters as long as the monsters, are super well made and show a lot of detail as well.
In my opinion, that's a plus!
Main characters:
Saitama - Plain guy, with no characteristics of being a super hero.
He worked hard to be powerful the way he is!
He teaches Genos to be as strong as him.
Oh, and Saitama has a fantastic sense of humor.
Genos - He's a cyborg (but super hot).
He has a type of innocence that I really like and is a smart guy.
He's powerful and depends on Dr. Kuseno to fix him when he needs.
This doctor transformed Genos into the cyborg he is.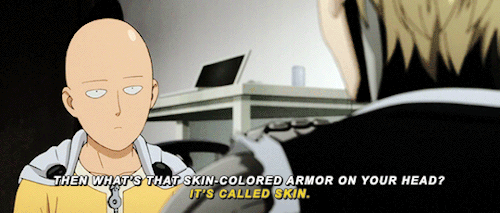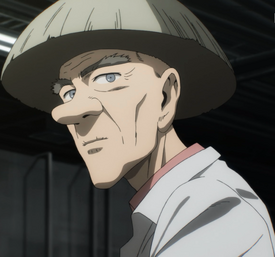 (Dr. Kuseno)
(I will not talk about other characters because I don't want to spoil anything for you, guys.
What I can say about the other characters is that they'll have a big impact at some point during the story.)
Music:
I really like the songs from this anime.
The intro they have is pretty powerful and has a lot of energy.
The songs they use to accompany the rest of the action is also very cool!
Intro song:
Final song:
''Hoshi yori Saki ni Mitsukete Ageru''


My opinion:
What I thought about this first part of One Punch Man was that it's totally worth to watch!
If you like funny situations surrounded with lots and lots of action, you have the perfect thing to watch.
The story might seem a bit predictable at some point, but I've always wanted to watch the rest of the episodes because it really is addictive.
As I said before, the action scenes are very well made and some of them are hilarious.
Genos and Saitama will be your new best friends during this journey and I
promise you that you'll want the second season to come, for sure.
So, in a general way, everything was balanced, well written and very well developed.
It was a very good and positive surprise for me in therms of anime because I usually don't watch this type of series.
I'm a fan and I can not wait to watch the rest of it!!
Trailer:
Thank you so much for your attention and support!
I hope you like this review.